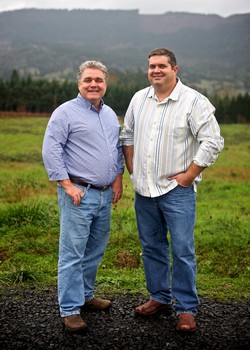 Oregon Territory was created by two winemakers who share a passion for fine wine, great food and a gracious life. Dyson Paul DeMara and Scott O'Brien Kelley met while working at Robert Mondavi Winery in the Napa Valley nearly 20 years ago. Since then they have travelled the world's wine regions learning the old world traditions and sharing new world techniques. In 2013 the duo came together to start Paul O'Brien Winery, the Umpqua Valley's first urban winery in the historic Hansen Chevrolet building in downtown Roseburg, Oregon. The duo chose their middle names to brand the winery as it speaks to their friendship and partnership. Oregon Territory captures the rich spirit and powerful nature that makes Oregon so special.
Scott Kelley began his career in winemaking at Edgewood Estate in the Napa Valley after graduating from University of California, Davis. In 1999, he joined the Robert Mondavi Family of Wines as Assistant Winemaker at La Famiglia di Robert Mondavi before being promoted to Director of Winemaking in 2001. In 2003 his winemaking role expanded to include representing Robert Mondavi's interests in Italy, working with the wines of Luce, Lucente and Ornellaia as well as in Australia on a joint venture with Rosemount Estates. In 2006 Scott took over as GM/Director of Winemaking at Estancia Estates in Paso Robles and Monterey, California before making the jump to Oregon to fulfill his dream of starting his own winery. Scott, now lives in Roseburg with his wife Dena and son Logan. The Umpqua Valley has a special place in Scott's heart as he grew up fly fishing the North Umpqua River with his father. He knew that someday he would move to the area to make wine and raise a family.
Dyson DeMara's career in the wine industry spans 32 years and multiple continents, including Europe, South America and Asia. He has worked for Pine Ridge and Robert Mondavi Winery and his experience includes viticulture, winemaking, marketing and research. DeMara previously owned a winery in Napa Valley and currently is the owner and winemaker of HillCrest Winery and Distillery, Oregon's oldest estate winery. In addition to Oregon he also makes wine in Spain, France and Germany.